L'Étudiant is a french well known media specialized in students career orientation. It also helps them to pass the exams. This redesign has been made for a competition pitch when I was lead designer at Clever Age. It includes user interviews, UX strategy, concepts and visual design (UI) for a responsive website.
1. Starting with business context and interviewing students
Because of an editorial background, L'Étudiant.fr was less designed as a service than a magazine, but actually it was a real ecosystem including mobile and web applications, real events and coaching solution. Unfortunately none of these touchpoints have been designed to work as a global service and share their data.
The opportunity was to transform L'Étudiant into a global service instead of silos and provide an accurate and independent source of information for student who don't really believe in the traditional education system.
I interviewed 10 students (from 16 to 24 years old) and I identified their main pain points:
Understand the reality behind a job and explore the opportunities
Find the right schools to get the job they are looking for
Switch for another orientation
Get the first job
Most of students feel disoriented and don't think their school is reliable to know the job market reality. They make research by themselves from word of mouth and social media.
Students are also looking for true stories and could reject a service if they suspect marketing content. They want to understand the reality behind the school brochure.
2. Design concept
L'Étudiant is a media and its first business is to publish magazines. The company also do books publication, organize events, coaching courses and mobile apps.
My concept was to consider the website as the central touchpoint of their ecosystem and push information from the other channels. Its built to be optimized on mobile devices (RWD).
The website is designed to give answers:
Which job fit with my skill set, my personality?
Which path allow me to do this job?
Which school fit best with my situation (cost, challenge, mood, area…)?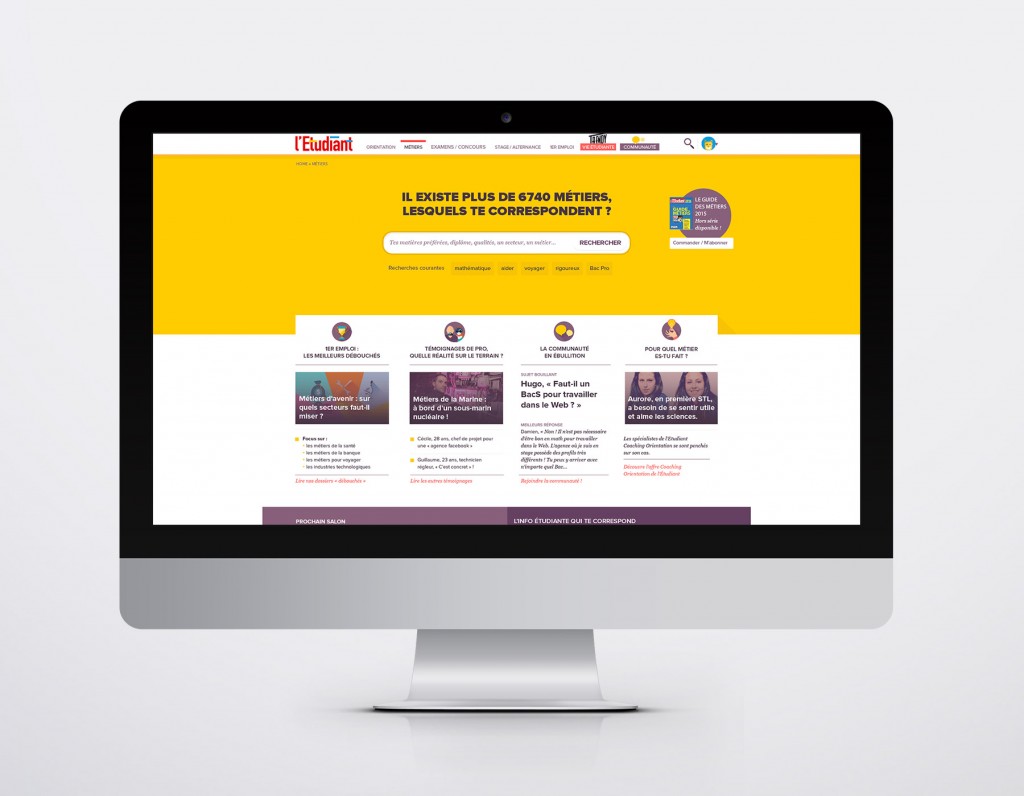 Get inspired is also a big part of the concept:
some keywords/tags (based on main keywords or favorites researches ; diplomas ; favorites education fields ; personal interests…) ;
best career opportunities;
last testimonials from former students or young professionals;
last hot topics in the community;
some marketing content about services or upcoming events.
the content is also delivered with A/B testing solutions (like QuBit or Kameleoon, which allow L'Étudiant to personalize the content)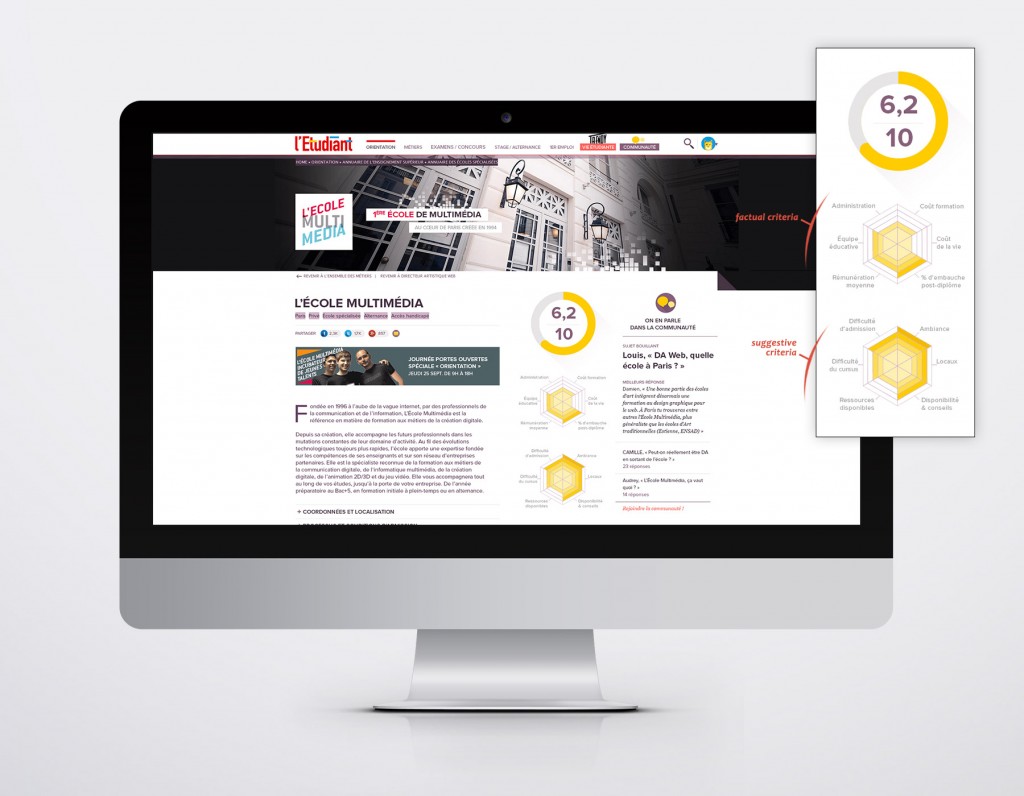 Interviewees told me about the importance of getting real feedback from former students, professionals or teachers. A community feature has been added and content is displayed closely to the school or training description pages. School are also rated with unusual but expected info:
scholarship and schools;
exams tips;
lifestyle and city best places;
meeting new friends…